Profile.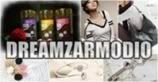 Owners: Karen,Jasmine & Christina

We're 101% trustworthy!

This blogshop has been opened since 9th January 2009

Karen: 81110138
Jasmine: 9826 2971

dreamzarmodio@gmail.com


---

All our items are in stocks & every item comes in one piece only


Navigations
Averts
For enquires/affiliations, drop us an email @ dreamzarmodio@gmail.com
ADVERTS

Rewind.
Credits.
Don't remove the credits. Thanks! :D
Information.
Due to busy schedule recently, We apologise that there will be no new updates till the later part of the year. Please kindly list down your e-mail address should you like to receive a notification from us.
Dreamz~
June holiday , Sales!

All the following items are available for the current promotion except items P100 and B007.

Fashion Clothings [2] are

not

applicable for this promotion

There is only

ONE

piece per item.

First come , first serve :)

***Twilight merchandises are

applicable

for this promotion now!


Twilight Musical Jewelry Box (plays Bella's Lullaby)




INCLUDES: A removable crest locket.


Price: $50

$38.00


Other items applicable for promotion:




ALL OUR ITEMS ARE IN STOCKS & WE ONLY HAVE ONE STOCK FOR EVERY ITEM. PRICES STATED HAVE ALREADY INCLUDE SHIPPING FEE. SO WHAT ARE YOU WAITING FOR? HURRY & SEND IN YOUR ORDERS NOW!!!!!!



Items on promotion except twilight musical jewellry box are

NOT

available for meetups.

SCROLL DOWN OR CLICK NAVIGATIONS ON THE SIDE FOR MORE INFOMATION :)


Dreamz is on TWITTER Now! Do follow us @ http://twitter.com/dreamzarmodio !

Please note that advertisements are STRICTLY forbidded to be tagged at the Enquires Tagboard. Adverts tagged at the enquires tagboard will be deleted . If adverts have been repeatingly tagged at the enquires tagboard (from the same blogshop) , Dreamz will not hesitate to ban them from tagging .

for enquires, tag us @ our tag board or just send us an email at

dreamzarmodio@gmail.com
back to top.