Profile.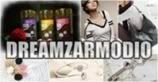 Owners: Karen,Jasmine & Christina

We're 101% trustworthy!

This blogshop has been opened since 9th January 2009

Karen: 81110138
Jasmine: 9826 2971

dreamzarmodio@gmail.com


---

All our items are in stocks & every item comes in one piece only


Navigations
Averts
For enquires/affiliations, drop us an email @ dreamzarmodio@gmail.com
ADVERTS

Rewind.
Credits.
Don't remove the credits. Thanks! :D
Information.
Due to busy schedule recently, We apologise that there will be no new updates till the later part of the year. Please kindly list down your e-mail address should you like to receive a notification from us.
Dreamz~
[Updates on Flea Market]



Date: 9 and 10 October
Time: 7am - 2pm
Venue: Bukit Batok East Ave 4, Point Mall, between blk 273 and blk 279

Below are some of the uses available:


963, 66, 173, 157, 174, 178, 61, 506, 177, 173, 945, 106, 852 and 189



Scroll down to the previous post of updates of the Flea Market for a map of the exact location.
The link for a bigger scale of the map could also be found.
Check it out to know the location and the bus-stop location.
back to top.